Clean & Clear

Non-Toxic

Non Staining

Prevents Rust &
Corrosion

Impervious To Water
& Saltwater

Extends Equipment
Life

Reduces Maintenance

Food Grade

Drinking Water Safe

Wide Operating
Temperature Range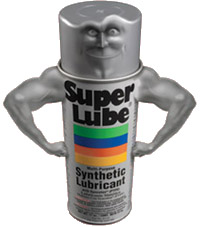 Super Lube® Synthetic Grease, Oil & Aerosol Lubricants:

Super Lube® synthetic lubricants succeed where conventional products fail, working harder and provide
long lasting protection against friction, wear, rust and corrosion.

Our line of Super Lube® Synthetic lubricants decrease downtime and extend equipment life while ensuring
cost-effective and trouble free maintenance.



Super Lube® Grease vs Lithium Grease


After 6,000 Hours of Use

Super Lube® Multi Purpose Grease

Petrolium Based Lithium Grease

Super Lube® Grease appears translucent and smooth.

No distortiuon of movement. Bearings rotaes smoothly.


Grease appears dirty and gummy.
Contamination and rust are visable.

Difficult to rotate and beginning to seize.



As technology progresses, lubricants are subjected to greater extremes in operating speeds and temperature range.
Super Lube® Synthetic Lubricants are designed for these applications.